Staff
Lauren Trexler
Director of Education
Lauren graduated from Hebrew Union College - Jewish Institute of Religion in 2012 at the Los Angeles campus. Before that, Lauren attended the College of Charleston in South Carolina where she studied Comparative Religious Studies. Prior to coming to Akron with her husband Zach, Lauren was the Education Director at a small synagogue in Vancouver, WA.
Lauren is excited to join the team at Temple Israel.
Lauren.Trexler@templeisraelakron.org
Becky Rubenstein
Religious School Office Administrator
Becky Rubenstein has worked with and grown within the Religious School for many years. This past year, she has become the Religious School Office Administrator. Becky works hard to run a smooth school environment and to make sure everyone has meaningful moments each and every day. Becky is currently enrolled part time at Hebrew College in Boston to earn her Masters in Jewish Education.
Becky grew up in Akron and with Temple Israel as her religious home.
becky.rubenstein@templeisraelakron.org
Kylee Burdohan
Executive Administrator
Kylee Burdohan started as the executive administrator at Temple Israel in May 2017. She was born and raised in the Akron area but received a Bachelor's degree in Organizational Leadership at Point Park University. After graduation, she stayed in Pittsburgh, Pennsylvania where she worked in the banking industry.
She moved back to Akron in 2014, where she lives with her rescued Cairn Terrier mix, Benton.
kylee.burdohan@templeisraelakron.org
Kim Williams
Bookkeeper
Kim Williams became the bookkeeper for Temple Israel in December 2013. She attended Kent State University and has more than 25 years experience in various aspects of the financial industry.
Kim enjoys spending time with family and friends and volunteering time with the local youth group. She resides in Coventry Township and has two sons: Ryan 31 and Ian 15.
kim.williams@templeisraelakron.org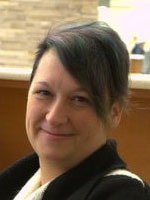 Rachel Armin Williams
Librarian
Rachel Armin Williams became the librarian at Temple Israel Library upon it's move to the Springside location in the fall of 2014. She received her masters in Library Information Science with a concentration in Special Libraries in 2011. Since that time she has been working at multiple Jewish agencies in the Akron and Cleveland area, most recently the Shaw JCC and the Jewish Education Resource Center in Cleveland. Rachel takes pride in the special collection that Temple Israel has, and enjoys seeing it grow.
Rachel resides in West Akron with her husband David, and their two children: Clay and Gwen.
Dale Redington
Facilities Coordinator
Dale Redington joined the staff of Temple Israel as the Facilities Coordinator in 2012. Dale oversees the maintenance, purchasing and events logistics at Temple Israel. Having been in the maintenance business for more than 25 years and the construction business all his life, Dale is detailed, focused and brings a passion for perfection to maintaining the beauty of the Temple Israel building. Dale is the proud owner of Portage Cleaning and Maintenance and has worked with clients such as Akron Children's Hospital and Goodyear.
Dale was born, raised, and currently lives in Akron with his collie, Bear, and enjoys visits from his three adult kids.
Thu, November 15 2018 7 Kislev 5779